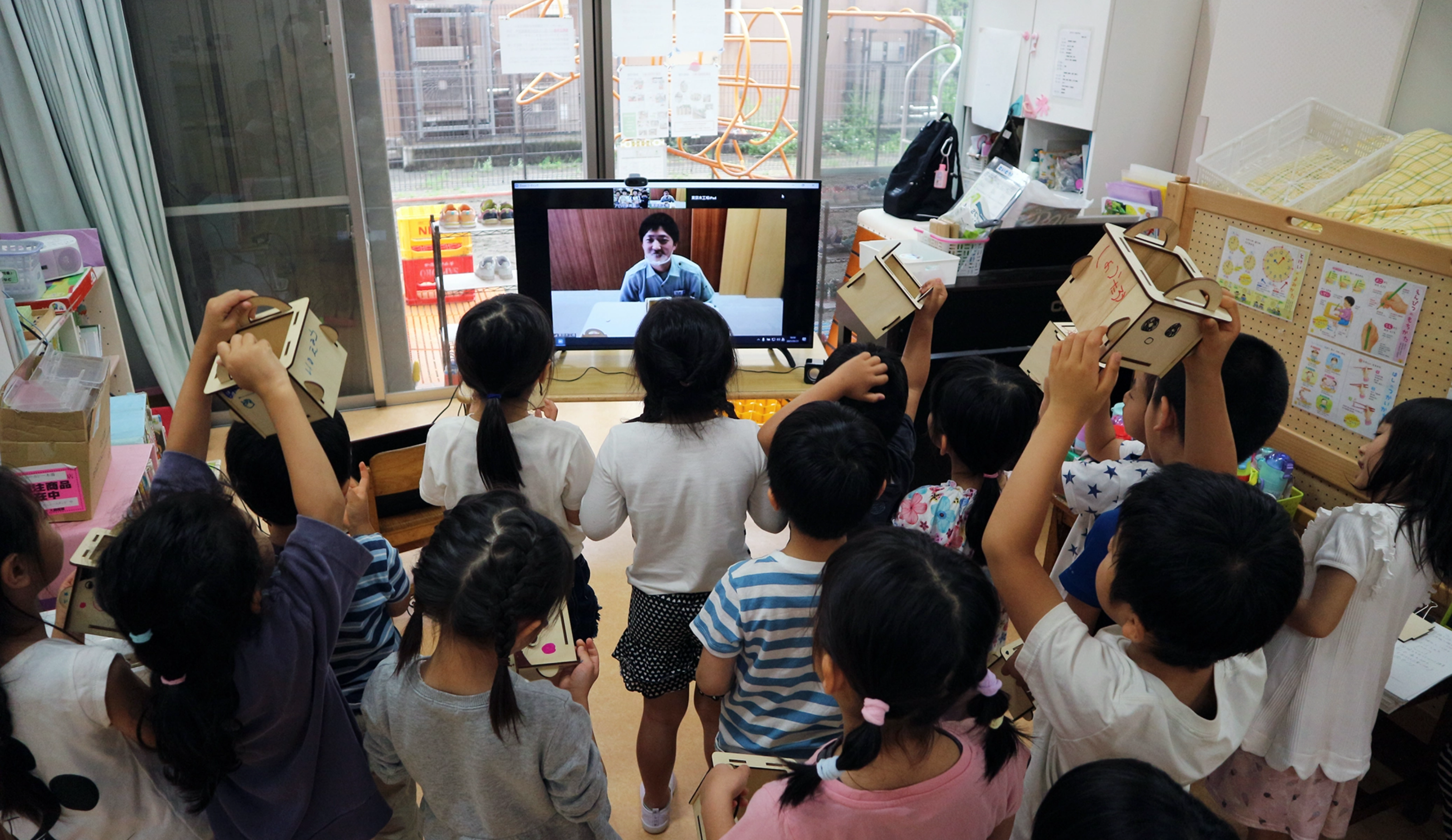 Remote Woodworking Class, connecting a kindergarten to Tokyo Mokkoujou Arts & Crafts Furnishings online.
In July 2021, Shimizu's mokuiku ("growing with trees") activities were certified for This is MECENAT 2021, by the Association for Corporate Support of the Arts. This certification recognized the mokuiku activities conducted through the woodworking classes provided by Tokyo Mokkoujou Arts & Crafts Furnishings, which has a history extending back more than 130 years.
"We Want To Convey The Attractiveness of Wood and the Joys of Monozukuri (craftsmanship)."
Mokuiku ("growing with trees") refers to activities that provide opportunities for children to foster a sense of abundance by familiarizing them with trees and maintaining the forests of Japan, deepening their understanding of culture, and giving them the experience of touching wood as a formative experience.
The mokuiku activities of Tokyo Mokkoujou Arts & Crafts Furnishings had their beginnings in the Summer Vacation Parent-Child Woodworking Class held for the families of employees in 2007. Masaki Wada, the General Manager of Tokyo Mokkoujou, says that these activities stemmed from our desire to communicate the woodworking skills Shimizu has cultivated since late 1800s to future generations.
"Each piece of wood is unlike any other. Each has its own unique characteristics and the fragrance and weight also differ. Because wood has knots and grain, it differs from steel frame or concrete, which can be produced with uniformly high quality, and there are times when it is hard to work with wood. I want people to come to understand the attractions of such woods while also experiencing the joys of monozukuri (craftsmanship) through our woodworking classes."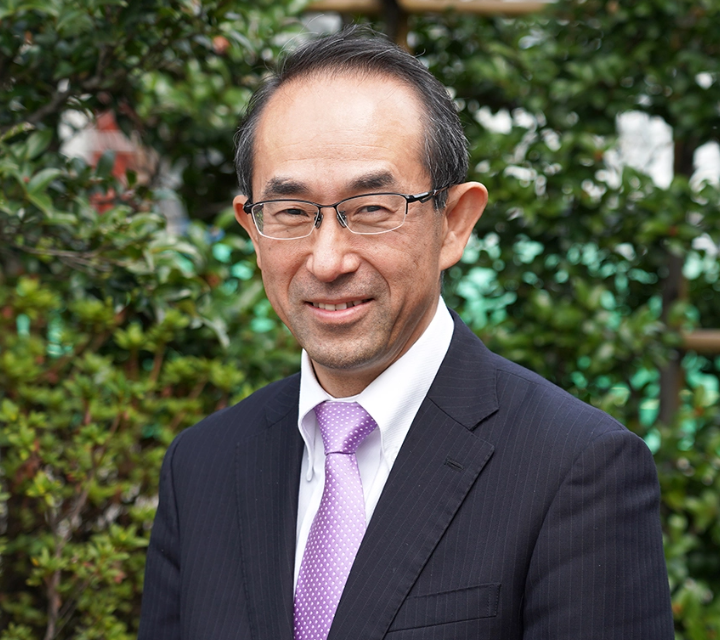 Tokyo Mokkoujou Arts & Crafts Furnishings began offering voluntary woodworking classes in 2012. The classes were for local elementary school children in the town of Minamisanriku, Miyagi Prefecture, an area stricken by the Great East Japan Earthquake.
We have been implementing Kindergarten Mokuiku Projects with three kindergartens in Koto-ku, Tokyo since 2015. Every Friday, we invite children from these kindergartens to Tokyo Mokkoujou and an employee teaches woodworking as their teacher. Through the year-long curriculum, children gain the ability to perform more complex work by participating in a series of classes. We feel them visibly the growth.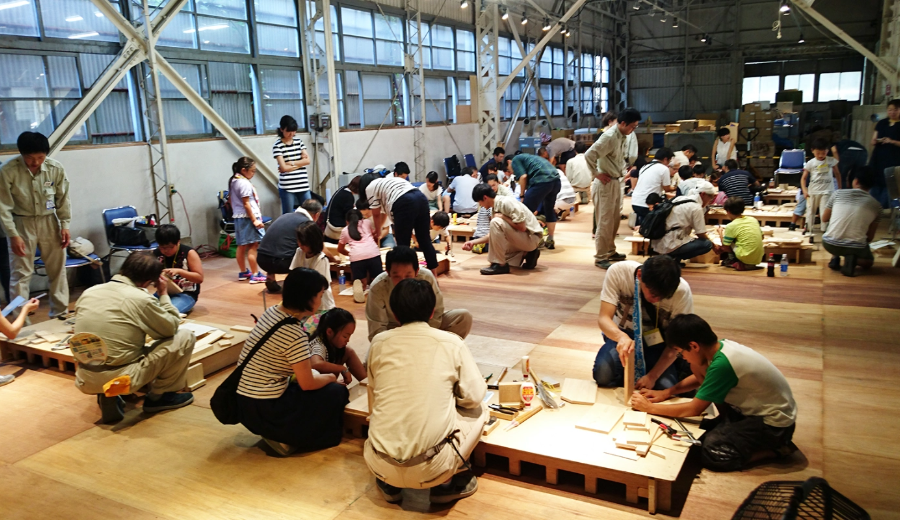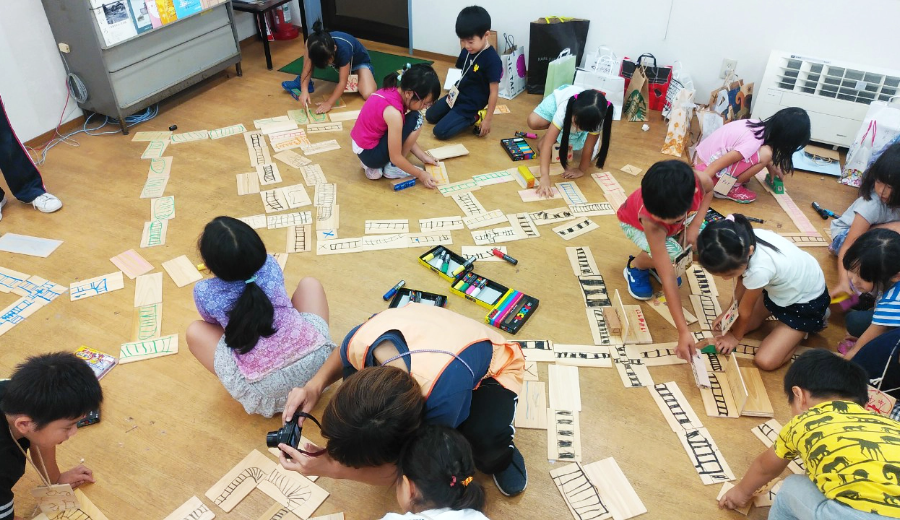 Five-Level Program, Tailored to the Participants
We have designed a five-level program of woodworking classes depending on the ages of the participants: Experience, Learning, Beginner, Intermediate, and Advanced. In the Experience, we provide opportunities for participants to interact with wood enjoyably, such as planing, and playing with lumber remnants. For example, creating "eco town", participants construct buildings and bridges using lumber remnants like building blocks, and "fishing", they fish wood made fish that attached hooks. We make them ingenuity to enjoy in creating and playing freewheeling.
In the Learning, they deepen their understanding of wood through picture-card storytelling and other means, and creating crafts of the intermediate level. They make key chains and name plates at the Beginner and piggy banks at the Intermediate. At the Advanced, they use woodworking tools to make bookshelves, a bookend with drawers, and other items.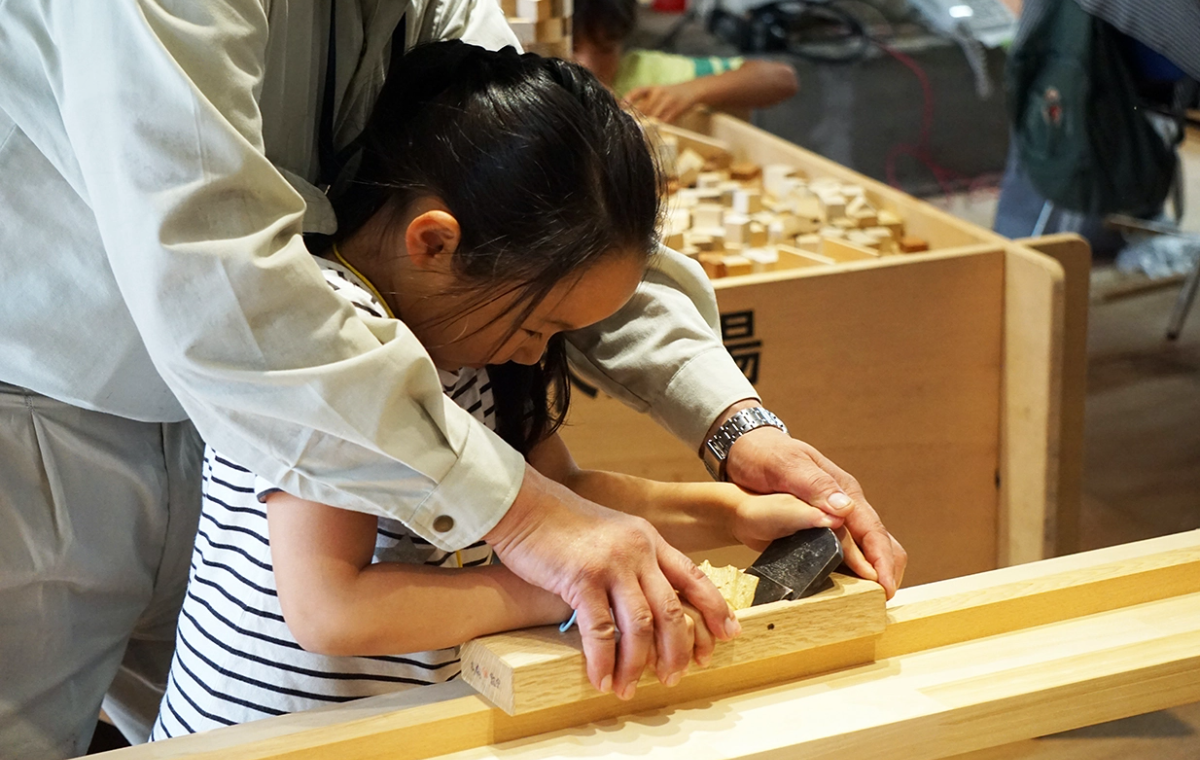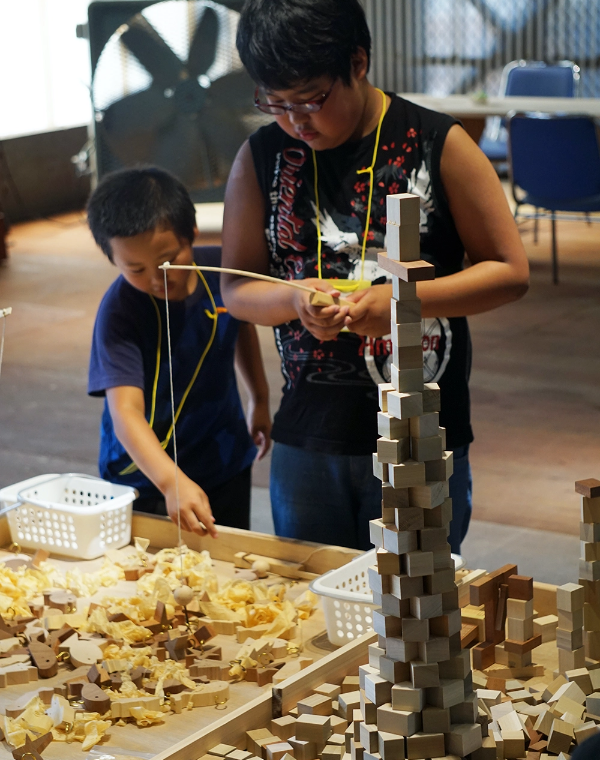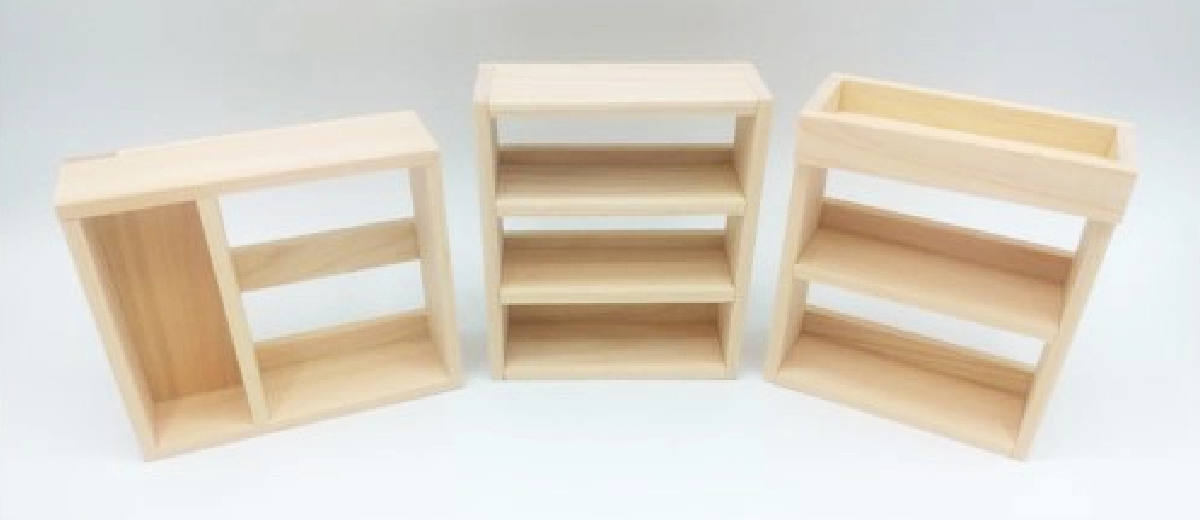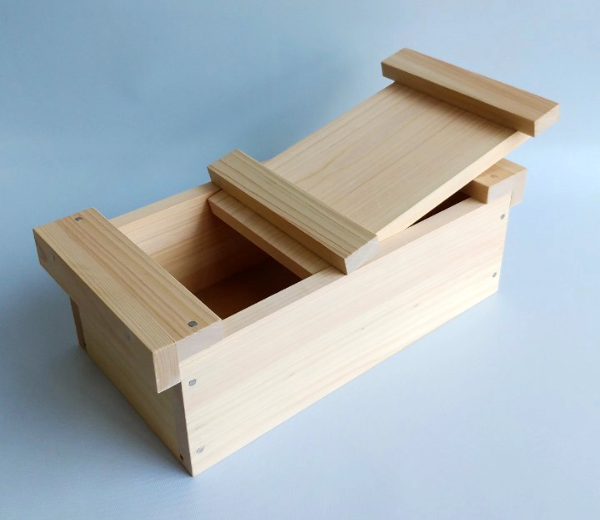 New Approach, Remote Mokuiku
Although many mokuiku events were cancelled in 2020 due to COVID-19, we launched a new approach. In July, we created "Ouchide-mokukou"(woodworking at home) so children could participate in mokuiku activities from their homes. We also planned and held a Remote Mokuiku in August, where we connected a venue in Ishinomaki City, in Miyagi Prefecture with Tokyo Mokkoujou online.
For "Ouchide-mokukou", we sent written instructions with QR code to access for instruction video, diagrams, and precut materials to participants and had them tackle woodworking while watching an instructional "how-to" video. The instructor could not be there so they needed to think with parents when they got stuck. We received positive comments from parents about how this improved communication with their children.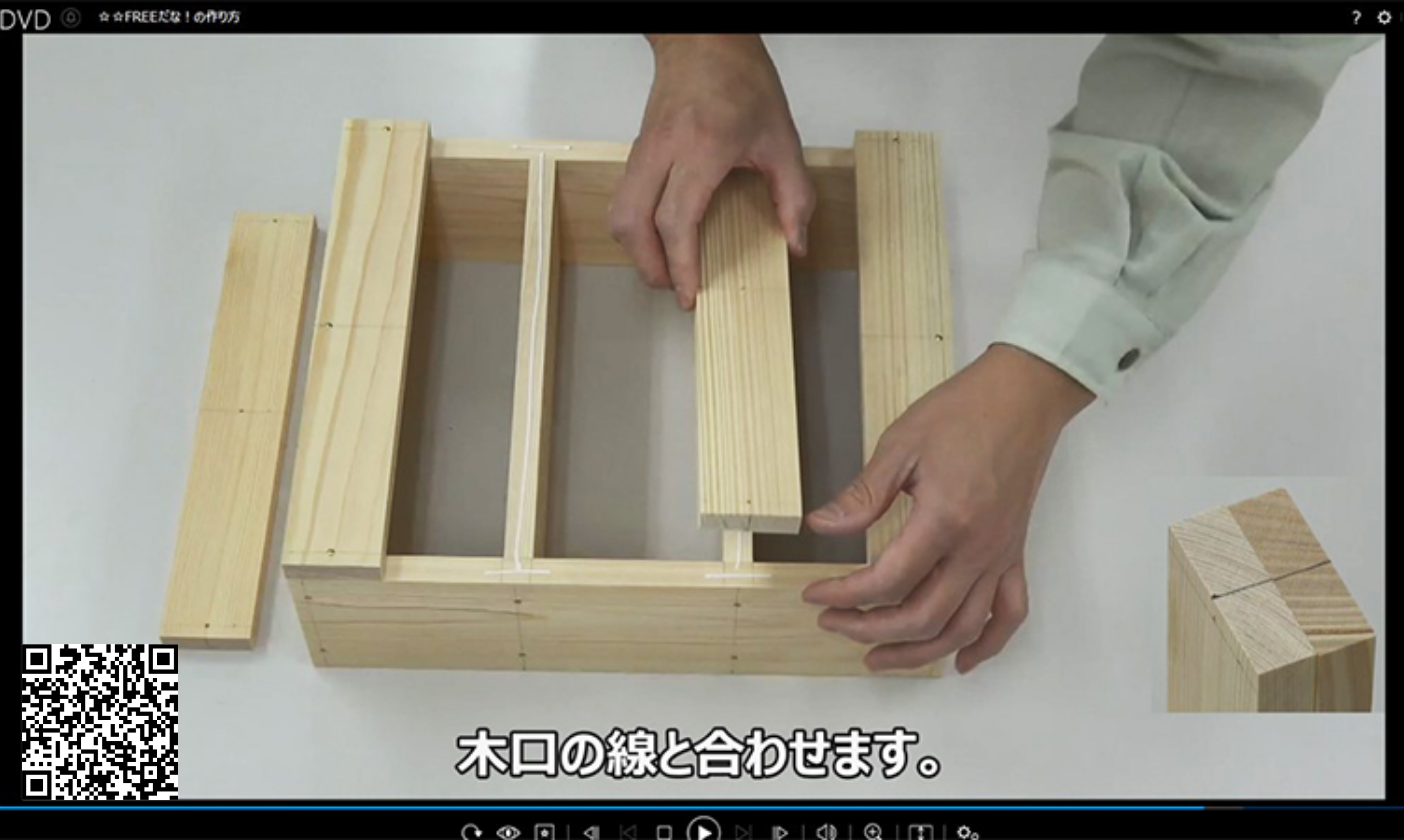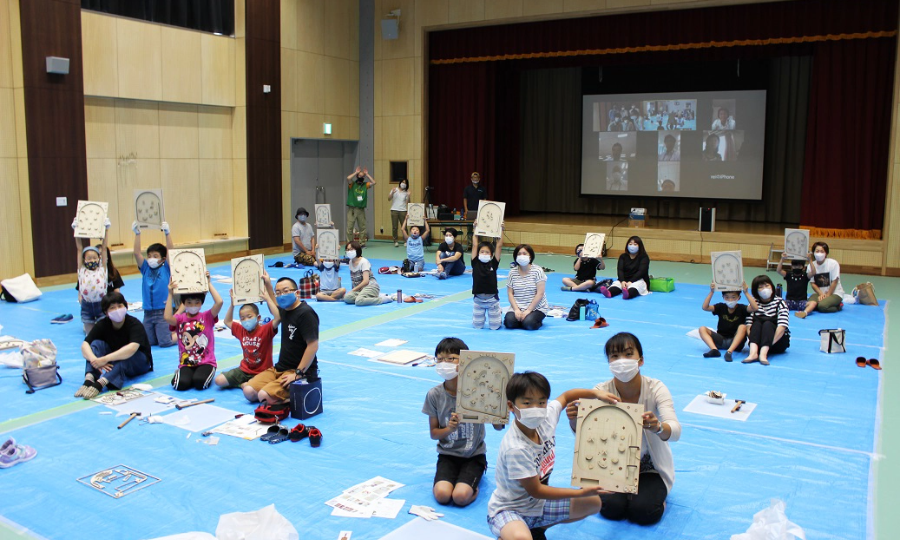 In 2021, we are also conducting the Kindergarten Mokuiku Projects as Remote Woodworking Classes. We plan to hold six events throughout the year to have kindergarteners experience making crafts associated with seasonal events.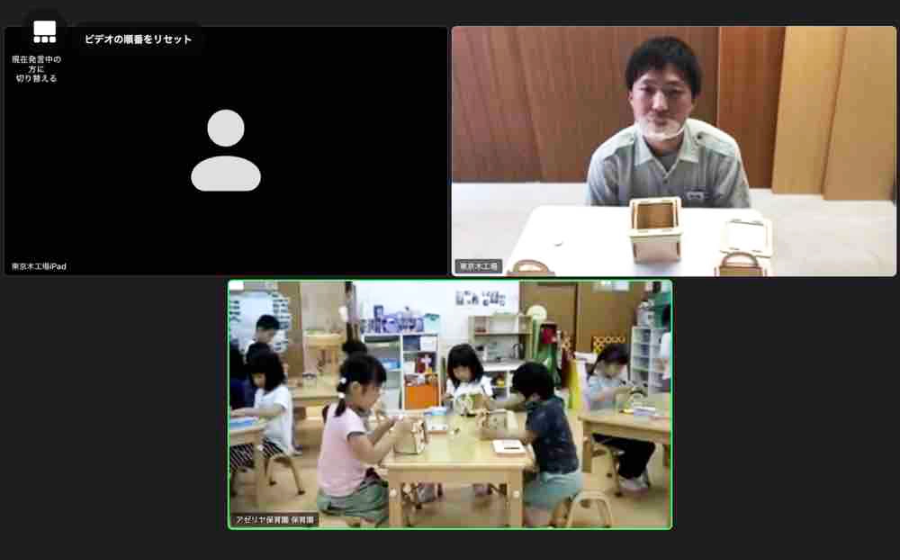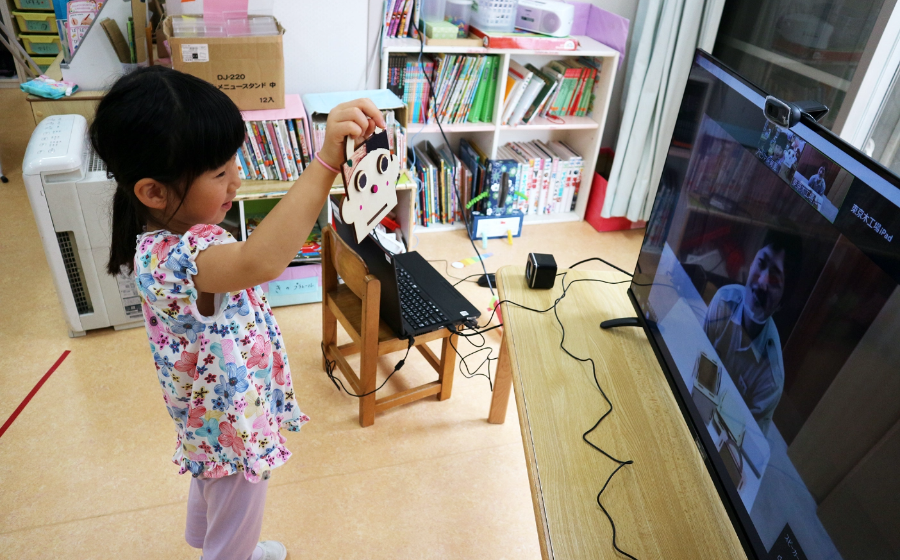 Mokuiku in Line with the Times
Tokyo Mokkoujou is now thinking about providing more in-depth Remote Mokuiku.
Mr. Wada had this to say: "There are many ways of viewing mokuiku, even though it is described with a single word. We want to keep the concept of 'local production and local consumption' in mind so that we can set themes rooted in the local history and land, and take other steps to delight local residents."
"Shimizu's roots stem from the spirit of temple and shrine carpenters. These dedicated carpenters would always take care of the buildings they constructed, proposing repairs when necessary and thereby meeting the needs of their customers. I think we must never lose sight of that "passion for monozukuri(craftsmanship)."
Shimizu will continue to offer mokuiku activities in line with the times so that we can provide even more people with the opportunity to become familiar with the attractiveness of wood and the joys of monozukuri (craftsmanship).
The information posted here is the current information on the date of posting.
Please be aware that this information may have changed by the time you view it.