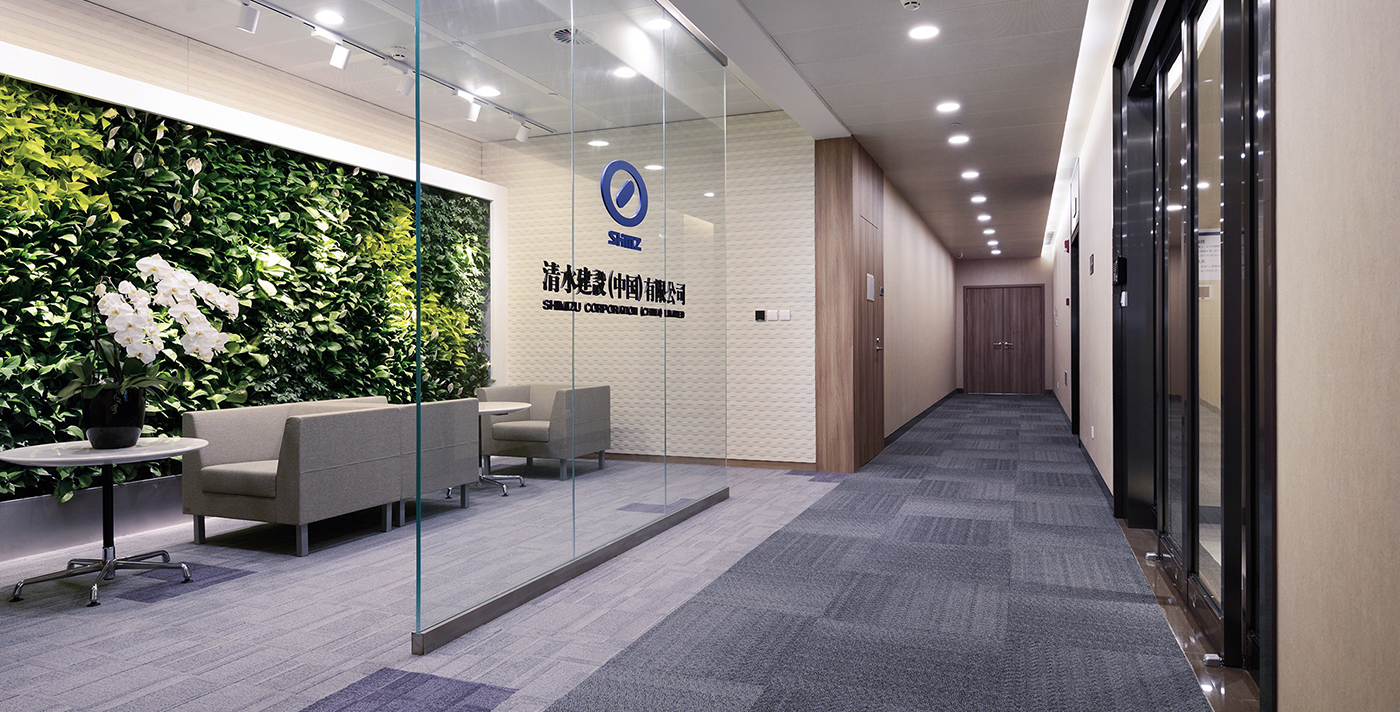 WELL certification, which focuses on the health (well-being) and comfort of users in evaluating buildings, is drawing attention. In July 2018, Shimizu Corporation (China) Limited ("Shimizu China"), an overseas subsidiary of Shimizu, obtained WELL certification for its office building in Shanghai.
Workplaces that Focus on the Well-being of the People Who Work in Them
WELL certification is an international certification system that evaluates the design, construction, and operation of building spaces from the perspective of human well-being. Since the program was established in 2014, certifications have been registered more than 1000 projects in 41 countries around the world as of October 2018. It has also drawn attention in Japan in recent years.
Yumiko Takesako from the sales department in the International Division had this to say: "Workplaces that focus on the well-being of the people working in them are in demand, from the perspective of health management. That is because creating a building environment that meets the WELL Building Standard is expected to improve employee well-being, increase productivity, and also lead to the acquisition of excellent human resources."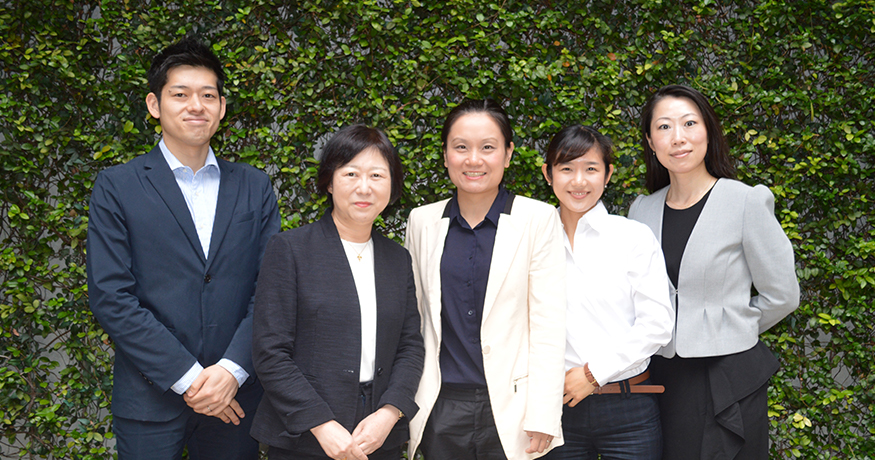 Buildings are evaluated on around 100 different features in the seven concept categories of air, water, nourishment, light, fitness, comfort, and mind. A building and its interior environment is evaluated based on medical evidence and the process involves a physical inspection in addition to examining documentation. It is also possible to obtain certification for a tenant's interior furnishings, apart from obtaining certification for the entire building, and Platinum, Gold, and Silver certification are awarded for each of these, depending on the rating level.
The Shanghai office of Shimizu China obtained silver certification under the Interior section of WELL Building Standard Version 1. We renovated entire one floor of the newly building with the relocation.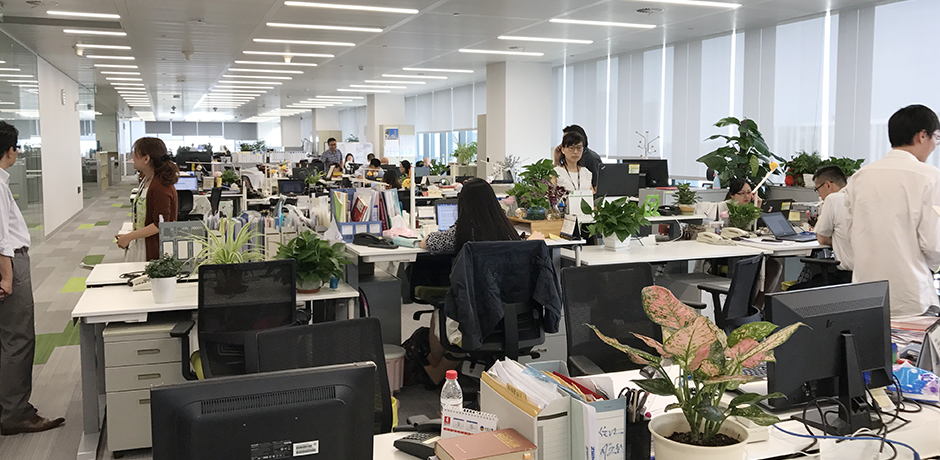 Employee Satisfaction Improves in an Office with Clean Air and Water
The following renovations were performed in the Shanghai Office of Shimizu China to meet the WELL Building Standard. An automatic air exchanger and filter were installed to keep the CO2 and VOC (volatile organic compounds) in the air of the office interior within the PM2.5 and other concentration standards. The tap water was made potable by passing the water through a filtration membrane and purifier. Light intensity during the day was adjusted by installing solar sensors. Circadian lighting was introduced through a combination of natural and artificial light to regulate the sleep-wake cycle of occupants.
Meanwhile, steps were also taken on operating aspects in the four evaluation categories of fitness, nourishment, comfort, and mind by supporting sports after work, participation in marathons and other activities, providing education on healthy eating habits, and establishing a library corner with health-related information.
Yanbei Chen, who was in charge of the construction and also works in this office himself, commented, "We employed Shimizu's technology and thought hard about how to meet the certification standard within the confines of one floor in the building. On the post-relocation survey, over 70% of employees said that their level of satisfaction with the office environment had improved."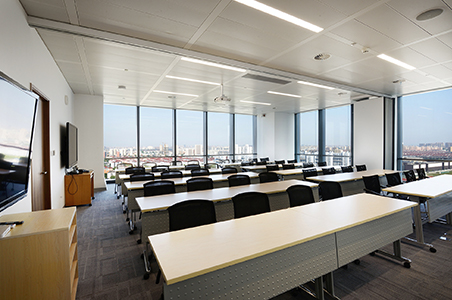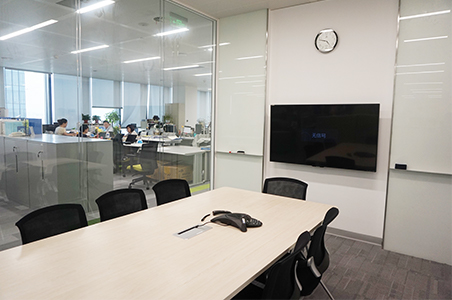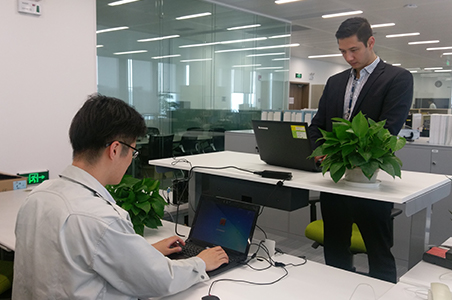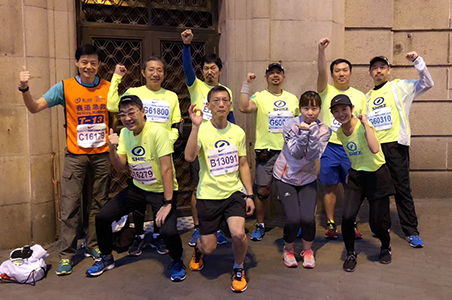 Putting Our Experience in Obtaining Certification to Work in Customer Projects
Shimizu participates in the alliance program of DELOS Living, LLC, the company that established the WELL Building Standard. We are working on initiatives to increase recognition of the WELL Building Standard and increase the number of certification projects.
It was Yu Tsubouchi from LCV Headquarters who commented that "I would like to use our experience at Shimizu China to make obtaining certification a smoother process for customers. Especially because China is the next largest market for WELL certification next to the United States. I would like to use the Shanghai Office as a showroom that customers can actually look at, and will work to ensure the spread of WELL certification and increase the number of organizations that obtain it."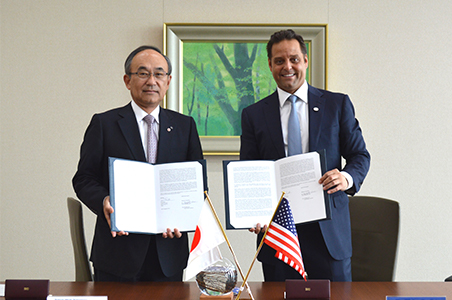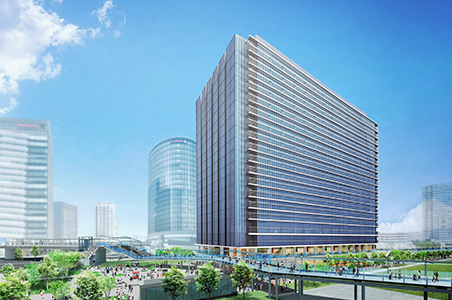 Shimizu has not just obtained certification overseas, but in Japan as well. YOKOHAMA GRANGATE, a Shimizu investment development project, obtained Japan's first Gold pre-certification as a tenant office building in April 2018. Jun Taniguchi from the Investment and Development Division, who was in charge of this project, stated enthusiastically, "I would like for Shimizu to lead the market as a pioneer so that obtaining WELL certification also becomes an incentive in leasing in Japan."
It was Hiromi Kido from LCV Headquarters who mentioned that "We are currently consulting on multiple projects aimed at acquiring WELL certification for the buildings of customers as well." More than 60 employees already possess the WELL AP (professional certification) that equips them with the specialized knowledge to provide that service. Such a high level of professional certification is rare in Japanese companies.
Pursuing Our Vision for Buildings and Well-Being with a Wealth of Technology
It is said that people spend 90% of their lives inside buildings. That means that building interiors have that much more impact on health. The need for rebuilding and renovation work to obtain WELL certification will likely increase in the future, in light of the social trends in promoting health management and expanding ESG investment.
Shimizu will continue to use its extensive range of applied technologies to propose and pursue a wide range of ways to create wellness in the future and we will work to add value to our customer's facilities.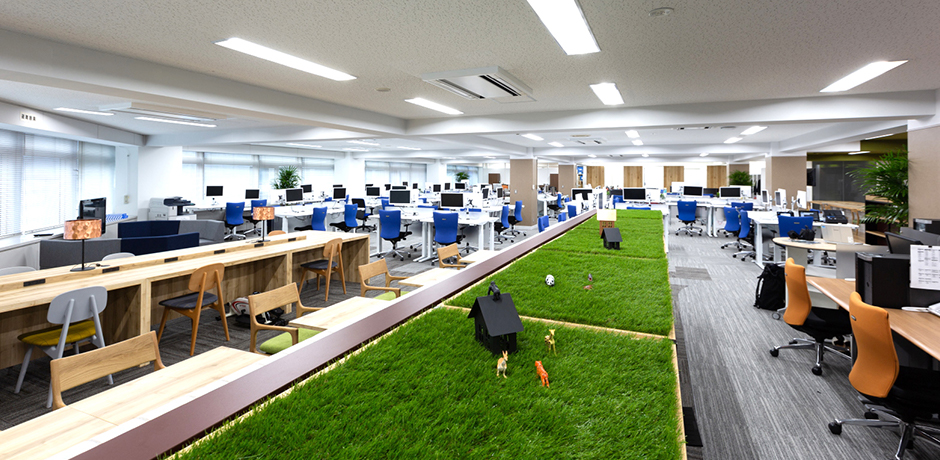 The information posted here is the current information on the date of posting.
Please be aware that this information may have changed by the time you view it.