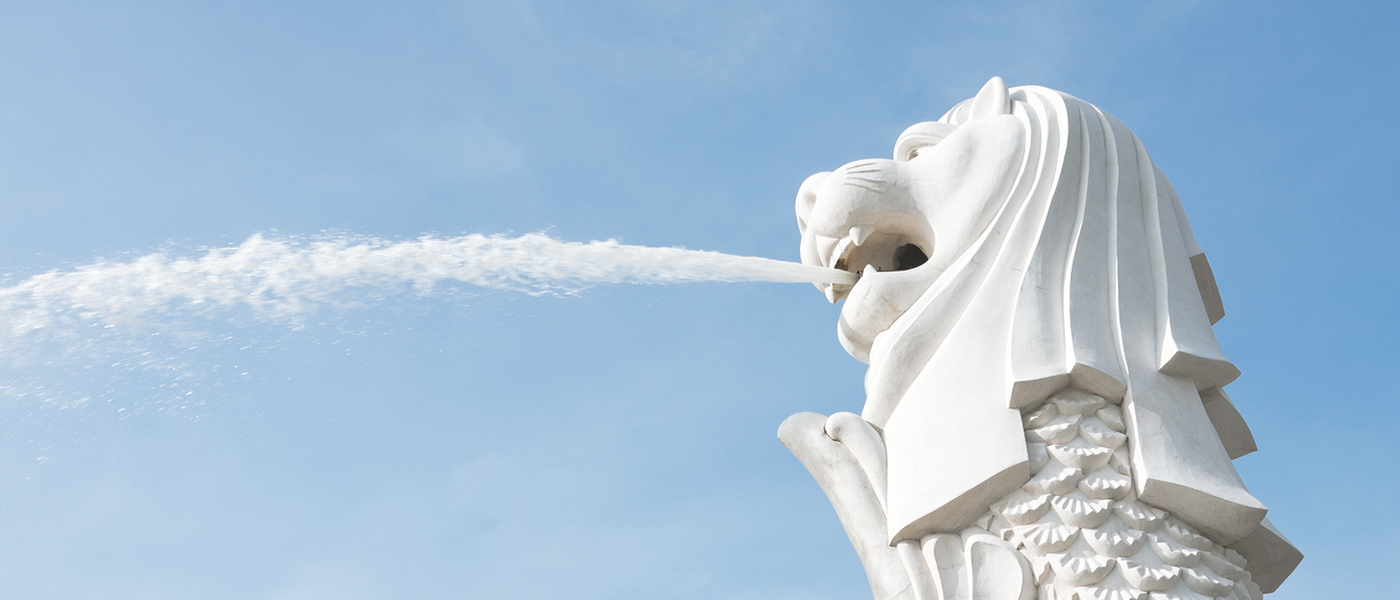 Singapore, the earliest country in Southeast Asia to industrialize and urbanize, has achieved astounding growth.
Shimizu has a special significance for Singapore.
Since Shimizu established operations there in 1973, we have continued to earn the trust of Singaporeans through our continuous work and have contributed to the development of the country.
Regarded in the Same Manner as a Local Company
The first big project that Shimizu took on in Singapore was a large 17,500-unit housing complex that was commissioned in 1982 and designed and built by 1990.
It was commissioned by the Housing Development Board (HDB) of Singapore. Shimizu subsequently received an order from HDB for the HDB Center (the main headquarters of HDB), after winning in international competitive bidding. The total floor area of 250,000 m2, mainly in the pair of ultra-high-rise buildings, was the largest complex project in Southeast Asia at the time.
Shimizu has actively undertaken many construction projects since first establishing operations in Singapore. The steady accumulation of a track record has gained Shimizu acceptance among the people of Singapore, and Singaporeans have come to regard Shimizu in the same manner as a local company.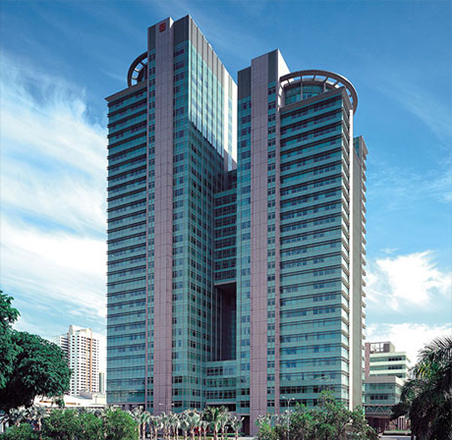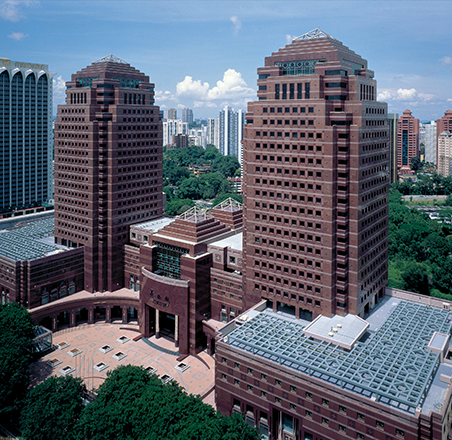 A Series of Orders from Local Companies
Ngee Ann City, built in 1993 on the Orchard Road, the liveliest shopping district in Singapore, is an ultra-large complex that is an icon of the country. It consists of a lower level, which houses a shopping center, and twin 27-floor symmetrical towers. The complex has a 3,000 m2 public square in addition to a small theater and pool, and is used by many people.
The local corporate group that commissioned Ngee Ann City also commissioned 268 Orchard, a commercial facility that is located on the same Orchard Road. It has delighted eyes of many with its intriguing shape since it was completed in 2014.
The Ability to Blend Harmoniously with the Local Community
268 Orchard building complex has an impressive style with three glass box-shaped structures set back in a stairstep manner at an angle to Orchard Road. The glass box structure is unparalleled anywhere else in the world: The roof and walls are supported by a combination of high-strength stainless steel columns and tension cables. Being able to complete such difficult construction while managing a multinational staff and workers is a strength of Shimizu and its technical capabilities.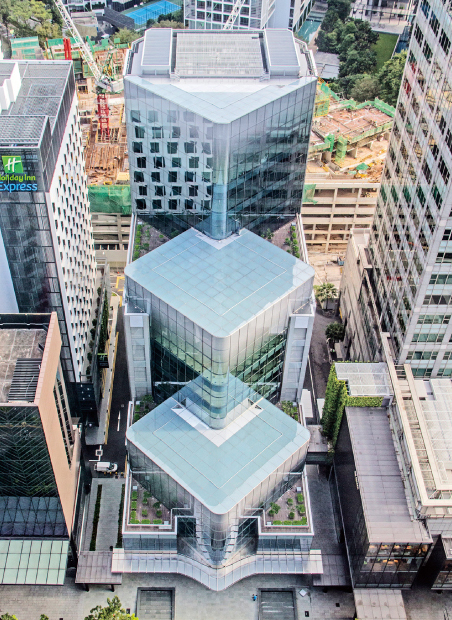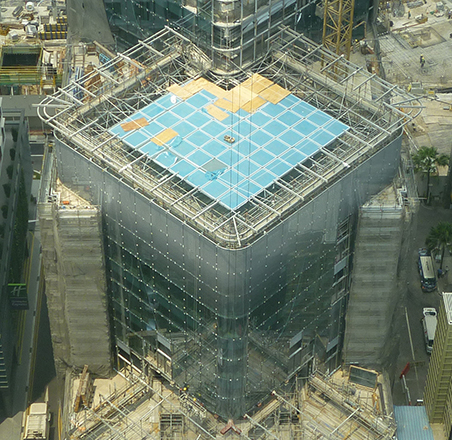 Detailed Attention to Generating Teamwork
One of Shimizu's strengths is its ability to blend into the local community in a harmonious manner. For example, to facilitate communication among people whose native languages differ at the job site, we make sure to create materials for meetings and for task transfers with many diagrams and images that make it easy to visualize the work. We also set up an all-weather tent on the construction site during the typical rainy season in Southeast Asia to ensure comfort, and make other conscientious efforts to maintain a high level of motivation among workers.
Promoting Locally-hired Staff to Managerial Positions
Actively promoting local national staff to management in addition to employing local workers at the job site is another example of Shimizu's ability to harmonize well with the local community. The head of the job site in charge of the Sky Habitat Condominium (completed in 2015), which has three bridges connecting two buildings, and an open-air pool on the bridge to the top level, was a non-Japanese staff member. Shimizu has numerous such staff members who exercise their acumen at each job site.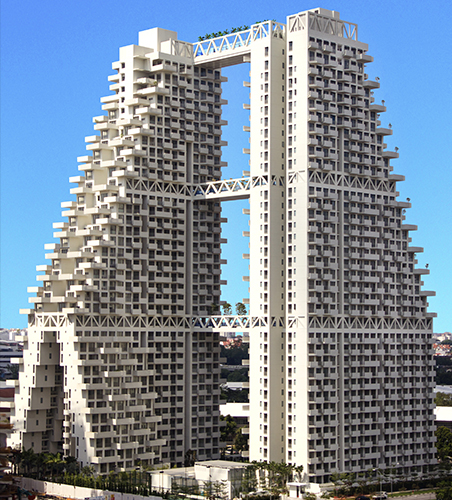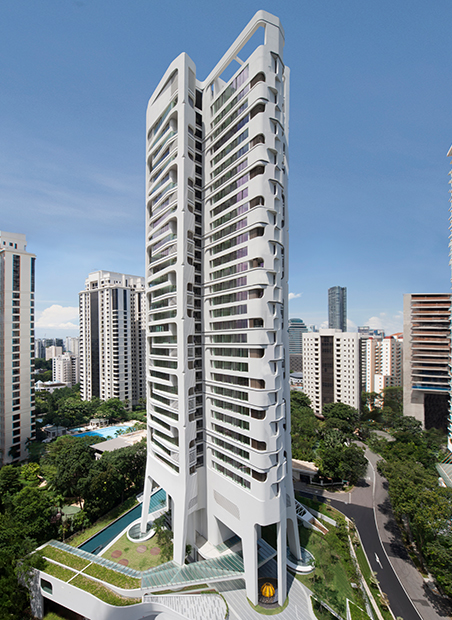 A Construction Site that Attracted Orders
This is a story about the Ardmore Residence, a luxury condominium in the residential district near Orchard Road, while it was still under construction. This building is known for its beautiful shape, which makes copious use of curved lines and surfaces. That made the construction complex, and we concentrated our attention on devising unique solutions during construction. The company who demonstrated interest in this site was the developer of a neighboring site. The developer quickly discerned the high level of our construction skill and commissioned a new project.
Contributing Comfortable Living for the People of the Country
The customer who commissioned Ardmore Residence was a first-time customer, but the company appreciated our advanced technical skills and earnest response capabilities, and commissioned a new condominium.
Being able to contribute to the development of the country and comfortable living for its people by continuing long-term relationships with our customers is one of the characteristic joys of the construction world. We are sure of it.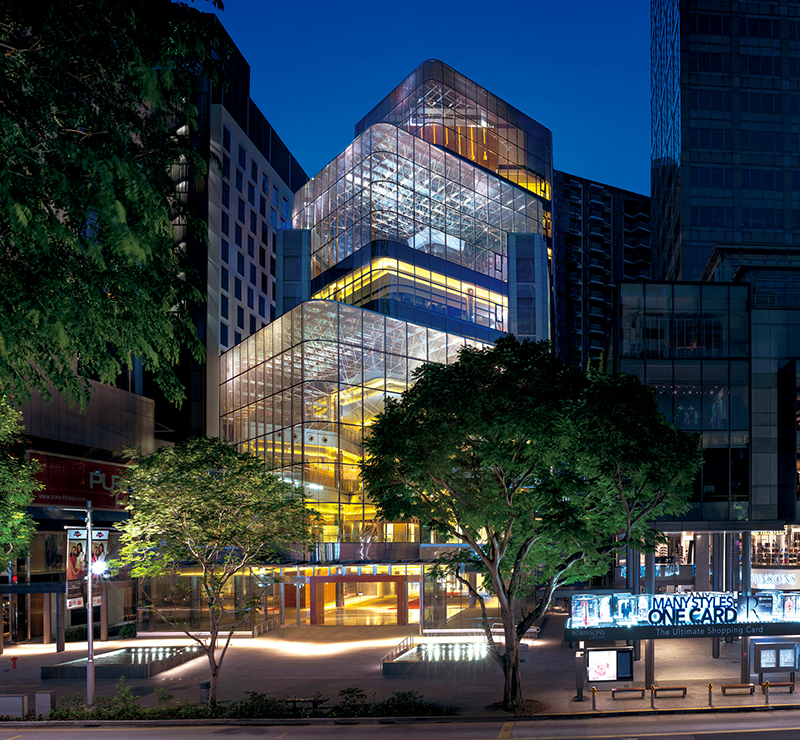 The information posted here is the current information on the date of posting.
Please be aware that this information may have changed by the time you view it.