基本方針Ⅱ:国際大会への対応、ランニングコストの低減に配慮した、世界水準の"屋内スケート場"
ObjectiveⅡ
:To create an indoor skating arena that will be able to host international competitions at world standards while also being conscious of running costs.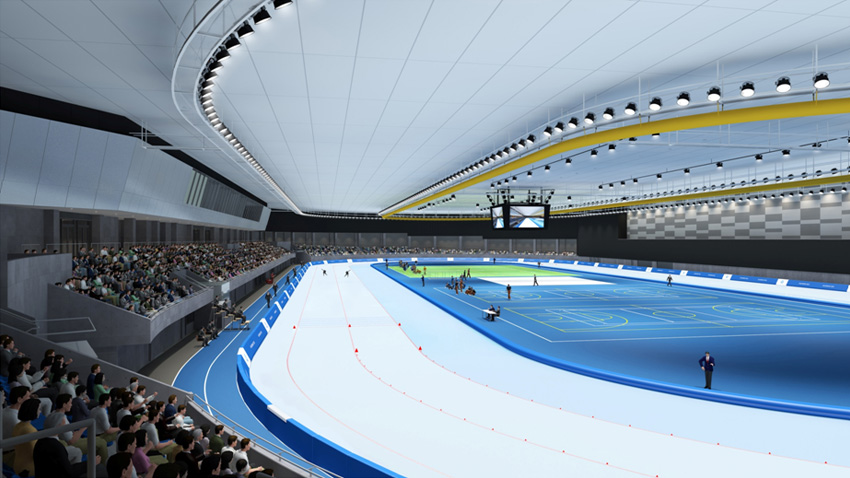 リンクを馬蹄(ばてい)型に囲い込む、観客と選手が一体化するエキサイティングな観客席
The horseshoe shape of the seating area helps create a sense of oneness between the athletes and spectators,
adding to the excitement felt by both sides.
1.大会を盛り上げる馬蹄型の観客席:A Unique Horseshoe Shaped Seating Area
観客席は、ホームストレート側をメインスタンドとし、その両側にコーナー席を設けた馬蹄形とする。また、競技の見どころとなる最終コーナーからフィニッシュラインにかけては、席数を多く設置することにより、観客と選手に一体感が生まれる客席配置とする。さらに、障がい者席は、障がい者の方が自由に観戦ポイントを選べるように、ホームストレート部とコーナー部に分散して配置するなど、国際水準のバリアフリー化を目指す。
The spectator seating area will be located on the home straight side of the rink and will continue along the two corners of the rink to form a horseshoe shape. There will be extra seats placed in the area directly in front of the finish line for races, and all of these things will help create a heightened sense of interaction between the athletes and the spectators adding to the excitement felt by both sides. Furthermore, both the home straight seating area and the corner seating areas will be equipped with seating that is easily accessible for people with disabilities in accordance with international standards.
2.世界水準の「氷質」「空調環境」「照明環境」の実現:Employing World Standard Quality Ice, Air Conditioning,and Lighting
屋内スケート場の内部は、屋根からの輻射熱をアルミ膜天井で遮断し、効率的な空調を行うほか、消費電力が少ないLEDによる照明、高品位なリンク製氷が可能な冷凍システムの導入など、維持管理費(ランニングコスト)の低減を図りながら、世界最高水準の競技環境を目指す。
The ceiling on the inside of the skating arena will be covered with a film of aluminum that will help repel radiant heat from the ceiling. The facility will also be equipped with efficient air conditioning systems, high efficiency LED lighting, and a freezing system capable of producing high quality skating rink grade ice, all of which are designed to lower the running costs of maintaining the facility, while also providing an area capable of holding competitions on the highest of standards.
3.国際大会の開催に対応した明快な動線分離:Simple and Clear Organization During International Competitions
スケート大会開催時には、大会関係者と観客が交わって混雑することの無いよう、それぞれが使用する階を1階と2階に分離し、大会運営を円滑に進めることができる計画とする。
The seating areas will also be able to be easily arranged to divide the spectators and athletes into the first or second floors, thus ensuring the separation of the two groups and the smooth organization of the game.