The main text begins here.
Exploring the Possibilities of Lumber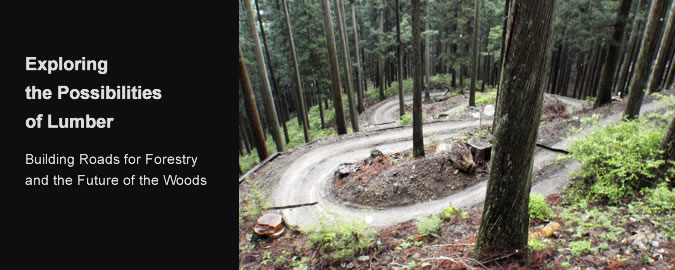 Building Roads for Forestry and the Future of the Woods
February 18, 2013
Mr. Okahashi, who owns and manages forests in the forests of Yoshino in Nara Prefecture—home to the renowned Yoshino cedar wood—also helps build forestry roads used by forest thinning equipment and the trucks that haul thinned timber. As he discusses the reasons for building these roads, his tone and manner convey his strong desire to preserve the Yoshino's forests and forestry traditions for future generations.
The sturdy trunks of 100 to 200-year-old trees survive to this today
The Yoshino forests are in a forestry district that has now been in use for some 500 years. A great deal of local expertise has been passed down over the generations. Forestry in Yoshino involves planting seedlings at densities of 10,000 trees per hectare (vs. 3,000 to 4,000 trees/hectare in customary forestry practice). The woods are subsequently improved by removing trees that aren't growing well. This thinning is repeated several times based on the growth of the trees. Called "multiple thinning," this process results in outstanding wide-trunked trees characterized by relatively uniform thickness from trunk to tip, few knots, dense growth rings, and straight wood grain.
In most places, final harvesting of trees that remain after thinning takes place after 40 to 50 years. At Yoshino, the trees are harvested after a much longer period of 80 to 100 years. Some trees are allowed to grow for 100 years or longer, depending on their condition. Because of this, Yoshino has maintained numerous thick-trunked trees that are 100 to 200 years old to this day.
Developing a 78-kilometer road network over roughly 30 years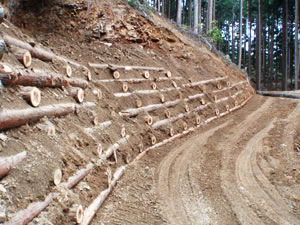 I began working in forestry around 1980, when it was common practice to transport lumber that was harvested in Yoshino by helicopter. It was still profitable despite the expense for helicopter transport because the price of domestic lumber was high back then. However, lumber use for building interiors and exteriors began to decline from that time onward, as did demand for Japanese-style rooms and homes. The availability of low-priced, high-quality imported lumber also began in to increase. As I watched these trends, I worried that Yoshino lumber might become too expensive to sell, regardless of its quality.
That's when I first suggested the idea of building forestry roads to Yoshino. I'd learned about forestry roads while studying forestry. My first attempts to build a road with my younger brother ended in failure due to a large-scale landslide. Since the mountains of Yoshino all have steep slopes, the sides of the mountains will collapse if we are not careful while building roads. One reason helicopter use was so common was that the numerous steep slopes made it too difficult to build roads for forestry. That's when I met Keisaburo Ohashi, who had experience building high-density forestry road networks. When I saw the roads he was building, I felt they would be ideally suited to Yoshino. I became his apprentice immediately. We gave building roads another try. Since then, we've gradually completed a 78-kilometer network of roads on land we own. This took us about 30 years to accomplish.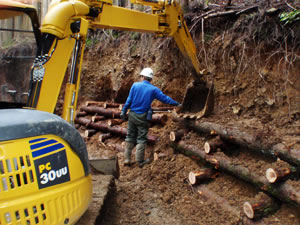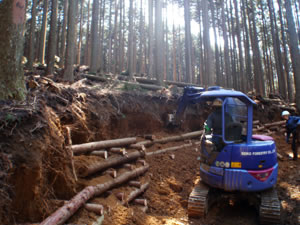 Using roads to lower costs and improve working conditions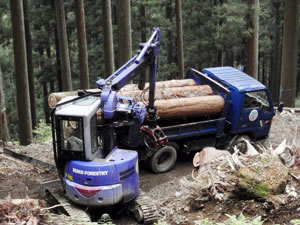 Building high-density roads suited to the terrain of my forests made it possible to transport thick logs from steep slopes using two-ton trucks instead of helicopters, which had long been considered the only practical way to get the timber out. The cost of transportation is about one-fourth that of helicopters. These roads also improved conditions for our workers by making it possible for them to access the mountains freely and safely. Extending these roads and making further improvements will enable us to respond to an increasingly diverse range of needs—for example, we could harvest and transport a single tree selected in the forest to fit a customer's requirements.
I think it is now my turn to pass on the advantages of the road building methods I learned from Mr. Ohashi. Lately I've been giving lectures, training people, and providing hands-on experience for people who have expressed an interest in building forestry road networks. If even one of them actually begins building roads like I did when I was young, others who see them will start trying it themselves. I hope our approach will help protect the forests of Japan as this ripple effect spreads, making forestry healthier not just in Yoshino, but across the country.
Thinning holds the key to forestry's future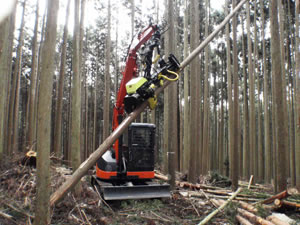 Japanese government policies to expand forestation after World War II led to a rapid increase in artificially planted forests of cedar and cypress, which had high economic value. However, the forests are not maintained today because it would not be profitable to harvest them with the price of lumber so low, and some forests have consequently reverted to an unmanaged state. This means that the quality of the trees that grow there is not very high, and the terrain is more susceptible to mudslides in typhoons and heavy rains, which could have a negative impact on local ecosystems. If profitability is the only concern, a single-use forestry road could be built to clear-cut forests and harvest a large amount of timber at one time. But that would leave no trees to harvest over the next 15 to 20 years and could also damage the mountain's ecosystem.
Using timber harvesting by thinning trees is one way to solve this problem. If timber from thinning were profitable, it could cover the cost of caring for the forests. This would ultimately make it possible to harvest high-quality timber. I hear that some areas and local governments have already begun promoting the use of timber from thinning. They are using it for buildings and furniture, and are developing the technology to use wood chips in biomass power generation. Competition with imported lumber is still likely to remain a factor, but I think there's a pressing need for the Japanese forestry industry as a whole to broadly communicate the need to thin forests and the importance of developing new uses for timber from thinning, despite this.
Conclusion
While chatting with Mr. Okahashi after the interview, there was something I definitely wanted to ask. "What made it possible for the Okahashi family to continue owning the forests for more than 300 years, over 17 generations?" Surely there must be some reason you have been able to overcome so many challenges over the years. Mr. Okahashi sat up straight and looked into the distance as he answered. "Our predecessors often spoke about the importance of our core business. That's why I've worked so hard to protect it. The most important reason, of course, is the love and care that our forest maintenance workers have shown for the forests of Yoshino." His words, backed by long experience, conveyed the pride of one who has grown up alongside the forests of Yoshino.
Profile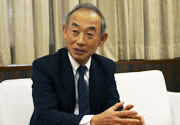 Kiyochika Okahashi
Board Chairman, SEIKO FORESTRY CO.,LTD.
Kiyochika Okahashi was born in Kashihara, Nara Prefecture, in 1949. The Okahashi family has managed the forests of Yoshino for generations since the middle of the Edo Period (1603-1868). Mr. Okahashi represents the 17th generation of the family business and owns approximately 1,900 hectares of forest in the forests of Yoshino.
After graduating from university, he learned mechanized modern forestry techniques by training at a forestry company in Gifu Prefecture. In 1980, he apprenticed with Keisaburo Ohashi, a full-time forestry professional in Osaka Prefecture. He subsequently began building roads on his land in Yoshino under Mr. Ohashi's guidance.
In 2010, he was appointed a member of the forest roads committee of the Forestry Agency. During the 51st Agriculture, Forestry and Fisheries Festival in 2012, he was awarded the Minister of Agriculture, Forestry and Fisheries Prize for his part in efforts to promote forestry management nationwide. He was also chosen as a recipient of the Emperor's Trophy in the Forestry category during that same festival. The trophy was awarded for his achievements in highly productive, profitable forestry management through the development of a high-density network of forestry roads.
About the Yoshino Forestry
The Yoshino Forestry
Located between the eastern and central Nara Prefecture, the forests of Yoshino cover approximately 69,000 hectares (of which approximately 54,000 hectares are artificially planted forests) in the villages of Kawakami, Higashi-Yoshino, and Kurotaki.
These three villages, with average elevations ranging from 600 to 1,600 meters, are surrounded by a series of steeply sloped mountains. Mt. Odaigahara (one of the 100 most famous mountains of Japan), Mt. Omine, and Kinpusen-ji Temple are nearby. A distinguishing feature of this area is its annual rainfall of more than 4,000 mm, which is partly responsible for the high quality of the trees that grow in the forests of Yoshino. The special characteristics of this region are exploited by the forestry systems developed here, which feature high-density planting, multiple thinning, and long growth periods.
Yoshino lumber has dense, beautiful growth rings and is highly reputed as a strong yet exquisite building material.
The forest maintenance system
A unique system of forestry has long flourished in the forests of Yoshino. Under this system, owners of forest land (called "yamamochi") outside the villages entrust certain village residents (called "yamamori") with the maintenance and management of the forests. The forests owned by Mr. Okahashi include some that his company manages directly and others that are managed by forest maintenance workers.
Mr. Okahashi tours Shimizu's Tokyo Mokkoujou Arts & Crafts Furnishings.
If more people would recognize the value of wood, our forestry regions could be revitalized.
Mr. Okahashi toured Shimizu's Tokyo Mokkoujou Arts & Crafts Furnishings before the interview. When asked for his thoughts, he said, "I thought that it would be too hard to do the work by hand and we would need to use automated machinery. But the woodworkers here use the machine tools as quickly and easily as they would hand tools. They manage the quality in everything they do. I'm impressed by their high level of precision, which I think only a leading general contractor could achieve."
He then spoke of his expectations for the future of Tokyo Mokkoujou. "Forestry is the entry point of the lumber supply chain. The places where wooden products are built, like Tokyo Mokkoujou, and the stores where they are sold, are the exit points. I would like to see Shimizu communicate the positive qualities of wood by using domestic lumber from forest thinning in designing and building buildings and furniture. This would draw more attention to domestic lumber and increase the demand for it, would help to revitalize the forestry industry."