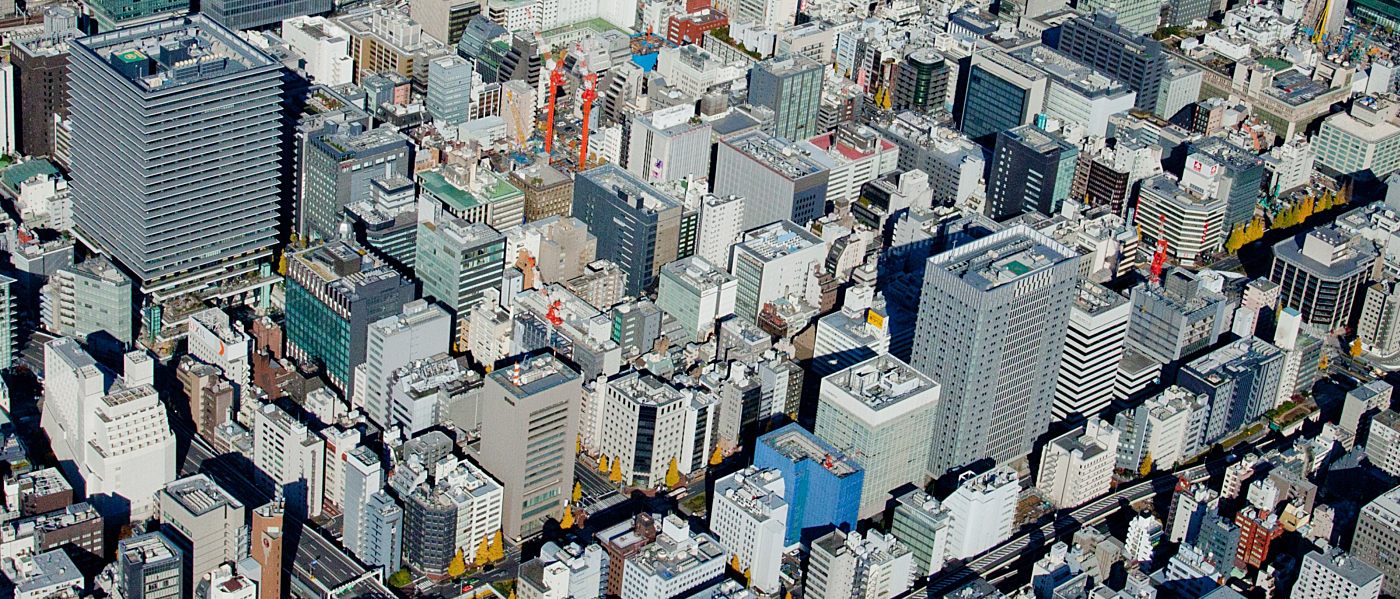 Shimizu provides solutions in facility and community planning, design, construction, and operation from the perspective
of sustainability to increase value that will benefit the next generation.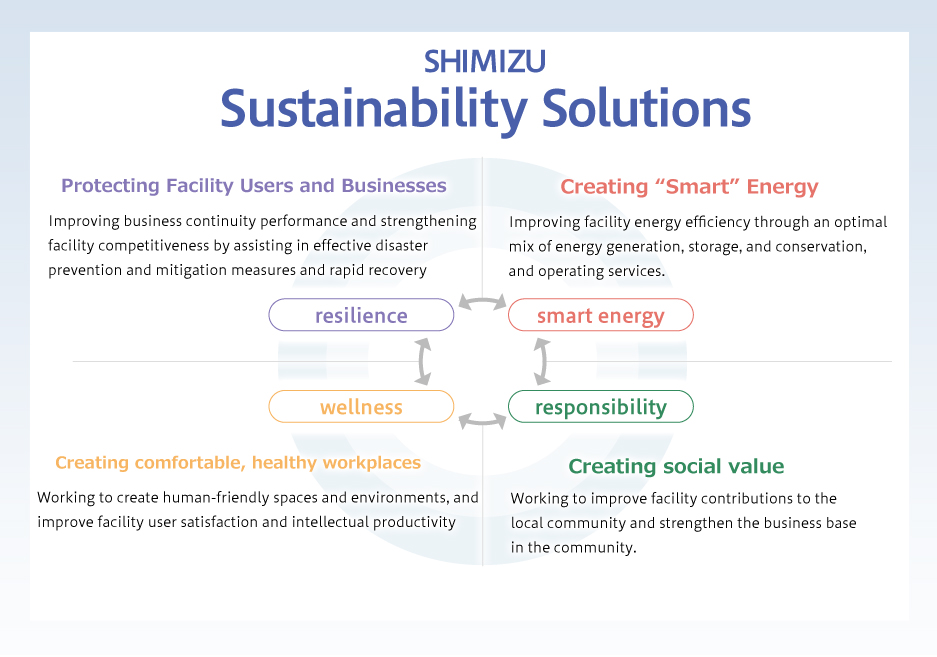 Responding to Community Planning with "ecoBCP"
While there are many facets to the keyword "sustainability," to Shimizu this means to contribute to the creation of sustainable communities from the perspective of building construction. "ecoBCP" is one of Shimizu's sustainability solutions.
This initiative arose out of the massive earthquake that occurred on March 11, 2011.
It became clear at that time that normal ecological measures were insufficient for achieving sustainability.
We wondered what type of facility construction and community planning would enable us to live in harmony with nature, when "nature" includes phenomena of the sort that cause large-scale disasters.
One of the answers to this question is "ecoBCP" (energy saving and energy efficiency + business continuity). The Kyobashi Smart Community is a concrete example of that.
Implementing Community Planning in Kyobashi, where Shimizu has its Head Office
Kyobashi Smart Community is an initiative aimed at improving business continuity and achieving low carbon emissions
for the entire community through mutual cooperation
among neighboring businesses in the existing business district. We have developed a community where our neighbors help one another out when one has trouble. We are working to improve sustainability as a community by joining hands and working together, based on the successful implementation of "ecoBCP"
in individual facilities.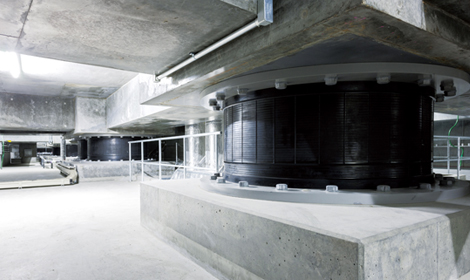 Sustainability in an Individual Facility (Shimizu Corporation Head Office Building)
The Shimizu head office building, which was completed in May 2012, is based on the concept of a zero-carbon building
that serves as an urban disaster base. This building embodies the combination of all advanced R&D that Shimizu has performed to develop the technology and expertise it has accumulated. We employed nature utilization technology and management and control systems for all building functions
in designing an environmentally friendly ultra-high-rise office building and succeeded in achieving a 62.7% reduction in CO2 emissions without sacrificing comfort (Fiscal 2015 results compared to the average emissions of office buildings
in general in Tokyo during fiscal 2005).
We have also teamed up with Chuo City to accept up to 4,000 evacuees during a disaster, including employees and others who find it difficult to return home. The building is also equipped with a seismic isolation mechanism, a self-sufficient power source for providing air conditioning and lighting, and other features.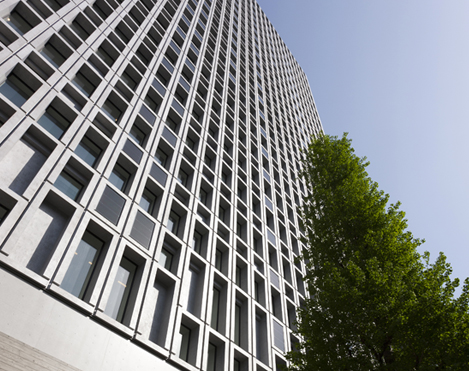 District Sustainability (Heat Supply System)
Tokyo Toshi Service KK (TTS) supplies heat to the 1-chome and 2-chome blocks of Kyobashi through the district heating and cooling (DHC) plant located in the basement of the head office building. Linking this plant to the advanced air conditioning technology in the head office building has achieved efficiency in heat supply that is among the highest in Japan. The DHC Plant has achieved comprehensive energy efficiency*of 1.39 (in 2013), far outstripping the national average of 0.82.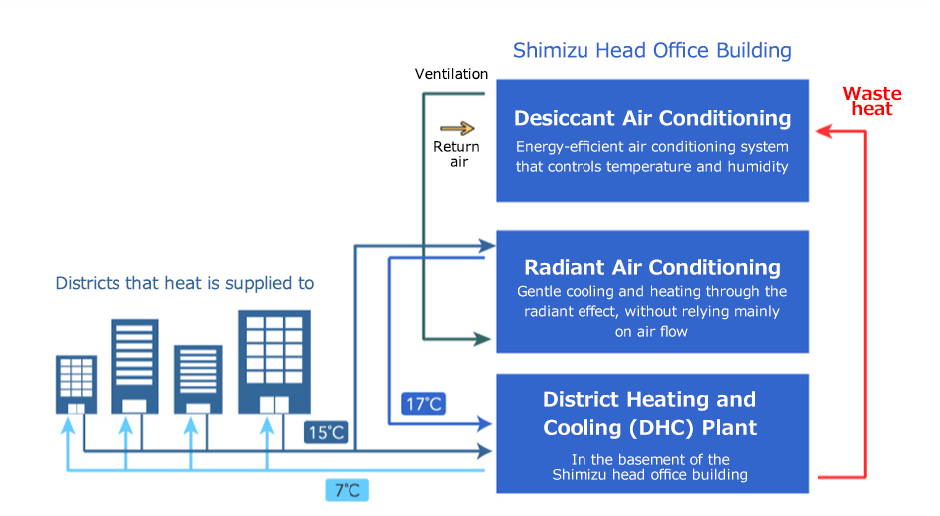 *Comprehensive energy efficiency

A ratio comparing the amount of energy generated from the consumption of fuel and actual usable energy after subtracting losses from energy conversion and transmission.
Area Sustainability (Kyobashi Smart Community Council)
A unique point of the Kyobashi Smart Community is the important role that person-to-person connections play, rather than just the technical aspects described above. The Kyobashi Smart Council was launched by neighboring companies, government agencies,
and local town associations with the goal of building a framework for working together and helping one another and to improve the sustainability of the area as a whole. The committee stages joint disaster drills, works to achieve area energy management
in collaboration with the electric power company, and actively engages in other activities, while keeping the expansion of the energy network to the entire area in the future.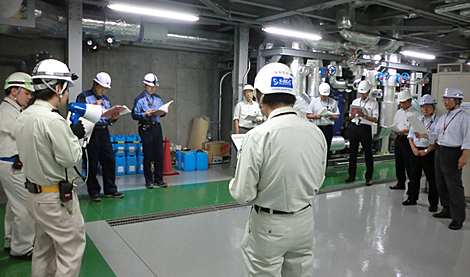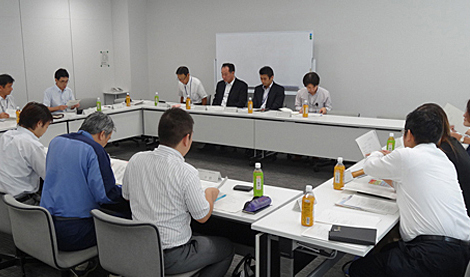 Community Planning that Can be Passed on the Next Generation
If all cities in Japan made themselves resilient in the event of disasters in addition to taking steps
to achieve energy efficiency and reduce CO2 emissions on a routine basis
as the Kyobashi Smart Community has,
it would dramatically improve the sustainability of Japan as a whole.
Shimizu wants to help as many people as possible to understand "sustainable" community
planning and expand it nationwide to achieve urban planning
that can be passed on to the next generation.
The information posted here is the current information on the date of posting.
Please be aware that this information may have changed by the time you view it.