ESG important management indicators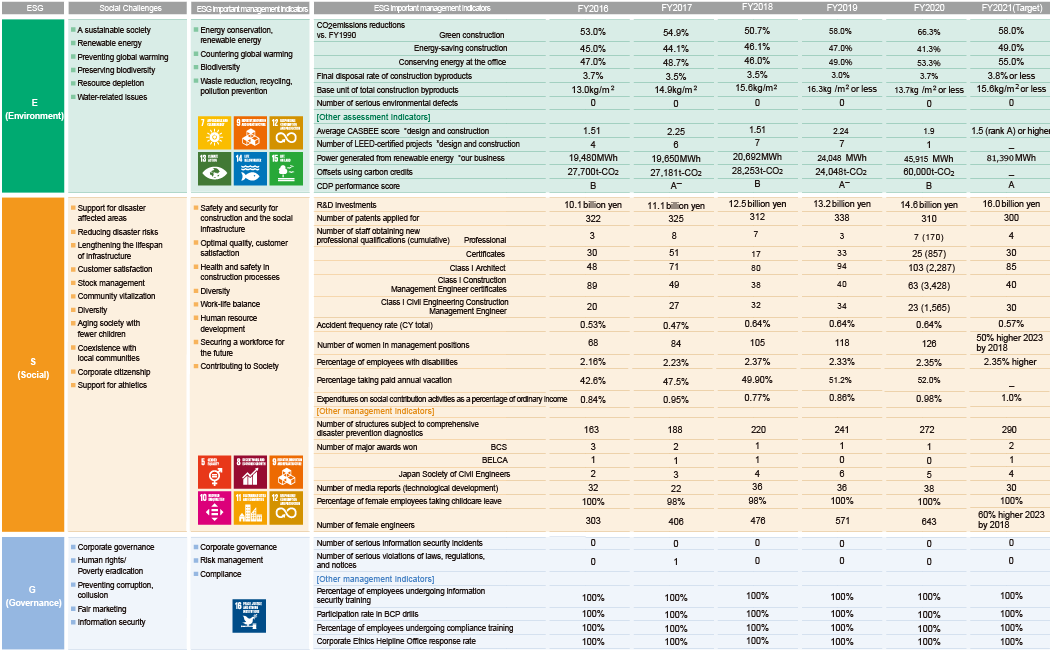 GRI Materiality Analysis
Shimizu performed an analysis of materiality based on GRI standards to extract key CSR topics. The analysis was performed from two perspectives: The impact on stakeholder evaluation and decision-making, and the degree of economic, environmental, and social impact the organization has.
Results of materiality analysis as follows: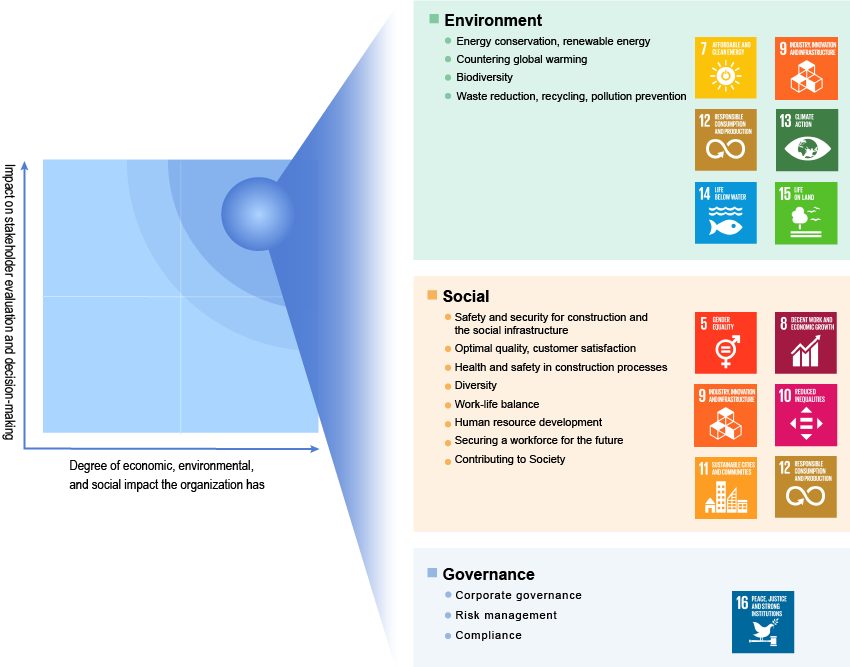 The impact on stakeholder evaluation and decision-making on the vertical axis shows the impact on shareholders and investors, recruits, and customers. The degree of economic, environmental, and social impact the organization has on the horizontal axis shows the impact on employee motivation (corporate culture), economic aspects, and medium- to long-term risks.
Management Approach
At Shimizu, the initiatives on each key CSR topic are undertaken by the division in charge of each of the functions. The contents of the policies, goals, responsibilities, specific measures, and other information for each key CSR topic is provided at the respective link destinations in the Corporate Report and on the website (ESG Data and Disclosures(Reference for the GRI Standards)See the Management Approach of Material Topics ). These divisions also implement the activities aimed at achieving the specific numerical goals of the KPI (Key Performance Indicators) and other performance indicators for each respective topic.
Stakeholder Relations
Shimizu believes that it is important to engage in dialog with customers and all other stakeholders and build a relationship of trust in order to ensure high standards in ESG (Economic, Social, and Governance) performance in our business. We work to ascertain the problems of the company through customer feedback, shareholder and investor engagement, dialog with subcontractors, and communication with employees. We also take care to communicate key information to shareholders and stakeholders and issue press releases to disclose sufficient information to all stakeholders in a timely manner.
Stakeholder
Main Activities
Description
Customers
Business activities
Provide value that exceeds the customer's expectations, rather than simply accurately assessing the customer's needs
Customer satisfaction survey
Meet directly with the customer three months and again two years after construction has been completed and listen to what they have to say
Website
Provide information on a timely basis
Shareholders and Investors
General Meeting of Shareholders
Held annually in June
Financial results meetings
Future forecasts, etc. explained to analysts
IR events
Offer tours of job sites, the Institute of Technology, and other locations in Japan and overseas
Meetings for overseas institutional investors
Hold meetings with institutional investors in Europe, U.S., and Asia (23 times in 2016)
Employees
Internal reports
Published monthly
Informal social gatherings with the president
Direct dialog between the president and employees nationwide every year
Union activities
Discuss labor relations and work environment
Family Day event
An event held for the family members of employees
Subcontractors
Kaneki-kai
A conference for Shimizu subcontractors in 12 regions nationwide
Successor education & training
An initiative to develop the next generation of leaders
Members of the Local Community
Briefings to explain construction projects to local residents
Held to explain construction projects before construction begins
Job site tours
To report the status of progress on construction
Social contribution activities
Local events and active volunteer participation
Government and Administrative Agencies
BCP response
Rapid response to government requests during an emergency
External Organizations
Activities in collaboration with NPOs and NGOs
Work together to solve social problems
Participation in the United Nations Global Compact
Shimizu became a member of the United Nations Global Compact in March 2013.
Simizu Corporetion is a member of the Global Compact Network Japan and is actively involved in the Human Rights Education Subcommittee (as Administrative Agent) and the Women's Empowerment Principles (WEPs) Subcommittee.
See the United Nations website for further details.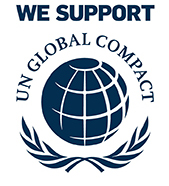 Reference for the ISO 26000(Guidance on Social Responsibility)
This index lists the main requirements of the ISO 26000 (Guidance on Social Responsibility) Standard and the initiatives of Shimizu Corporation that relate to these requirements.