September 1, 2021
Heerema Marine Contractors("Heerema"), an offshore windfarm construction company in Netherlands, and Shimizu Corporation(President: Kazuyuki Inoue) have concluded an MOU concerning collaboration in offshore windfarm construction.
Heerema is an offshore engineering and construction firm with many years of experience in the offshore construction of oil and gas development and windfarm. Shimizu is aiming to expand EPC(engineering, procurement and construction) orders for offshore windfarms being planned in Japan in collaboration with Heerema, which has been involved in many offshore wind power construction projects in Europe and Asia.
In Japan, the trend toward introduction of offshore wind power generation is accelerating based on the Act on Promoting the Utilization of Sea Areas for the Development of Marine Renewable Energy Power Generation Facilities enacted in April 2019. This includes project site selection by the government and its auction process. The Japanese government's Vision for Offshore Windpower Industry(1st) established the goal of 10 GW in offshore windfarm power generation capacity by 2030, and 30-45 GW by 2040. Rapid expansion of the offshore windfarm construction market is projected.
In light of this, Shimizu invested 50 billion yen in building a SEP vessel(SEP: Self-Elevating Platform) equipped with transport and crane capacity that is among the largest in the world. We aim to achieve top market share in the offshore windfarm construction market in Japan. Collaboration with an international company having extensive construction experience in Europe, where introduction of offshore wind power is growing, is also essential for expanding offshore windfarm EPC projects. Shimizu therefore decided to conclude an alliance with Heerema, which has a leading track record in the possesses large crane vessels in Europe. They will be responsible for constructing wind turbine foundations in offshore windfarm projects that planned by Shimizu.
Shimizu also has concluded an MOU with Fred. Olsen Ocean Ltd.("FOO") of Norway, which has a top record in Europe in SEP vessel operation and offshore wind turbine installation. We have successfully built a competitive construction system for the series of processes from large SEP vessel operation to construction of foundations and installation of wind turbines by concluding alliances with FOO and Heerema.
Shimizu intends to contribute to the achievement of a decarbonized society by expanding EPC projects for offshore windfarms. It plans to achieve this through the use high-performance SEP vessels capable of handling increasingly large offshore wind turbines and strong collaboration with overseas partners.
≪For Reference≫
Heerema Marine Contractors
Head office location
Leiden, the Netherlands
Representative
Koos-Jan van Brouwershaven, CEO
Established
1948
Business description
An offshore construction company that specializes in transport, installation, and decommissioning of offshore structures.
Possesses four large floating installation vessels, two anchor handling tugs, and operates in a broad range of offshore energy development and construction businesses in many areas worldwide, including offshore wind power.
Self-propelled SEP Vessel Shimizu is building(perspective drawing)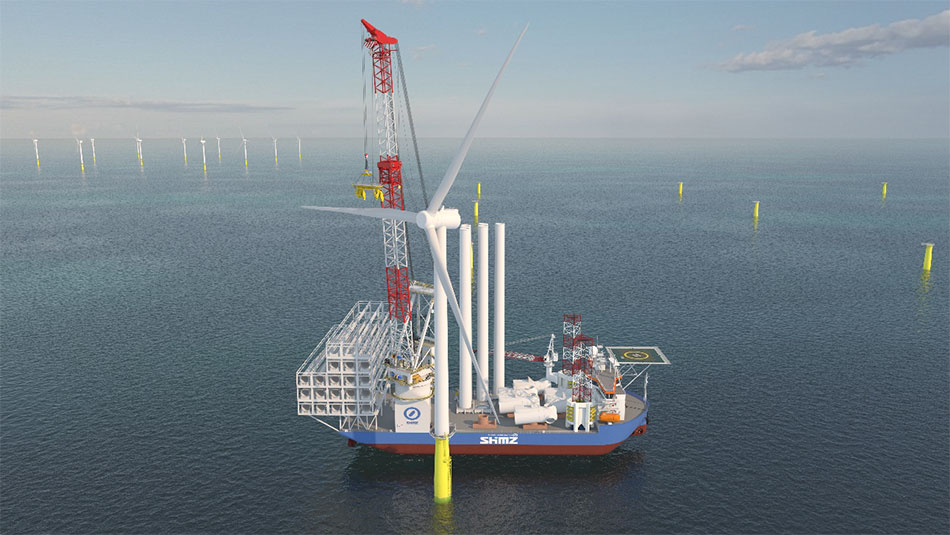 The information contained in this news release is the current information on the date of publication. Please be aware that this information may have changed by the time you view it. Please contact the company to inquire for further details.